interview by Sweta Salvi
this article appeared on 2nd June 2014 on: Home-Review.in
The experiential content of any structure is as important as the aesthetic one. And the young architecture firm in Mumbai, Architecture BRIO effortlessly bring this balance of plausible and implausible in their work. Headed by a Dutch – Indian duo, Robert Verrijt and Shefali Balwani, the practice has made its mark on the architectural map of the country in a short span of eight years.
Their work is all about reinterpreting convention while allowing imaginative thinking to co-exist with contextual and functional aspects of a project. Architecture BRIO's practice, which boasts of projects from luxurious resorts to slum rehabilitation, flourishes on fastidious groundwork and research. It is further fostered by innovative technologies and sustainable principles.
The couple's diverse backgrounds bring in that unique edge which is reflected in their work. However what stands out is the interactive experiences that their spaces offer. Considered as one of the most promising practices of the future, the principals keep themselves actively involved in the academic scene of the country through teaching. One of their recent projects, 'House on a Stream', has won several awards. It has also been widely featured in publications worldwide. In this space, they talk about architecture, their future projects and their passion for anything that requires boundless imagination…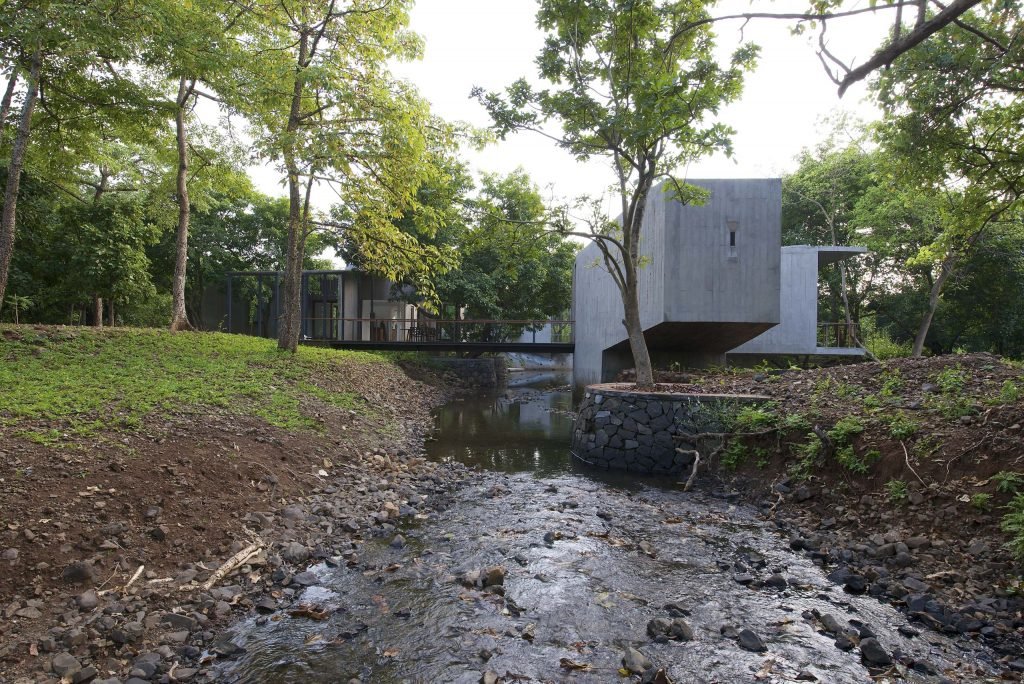 What are the core fundamentals of your practice at Architecture BRIO?
Robert: We are foremost passionate about designing. Designing unimagined possibilities. Creating unexpected and inspiring environments. We like to work on the fine line between the ordinary and the surprising. A balance between extreme solutions and appropriateness. We have an aversion towards conventions and believe tradition, as a concept is important as long as it is allowed to evolve. That's why we are constantly searching for new opportunities, reinventing techniques and reinterpreting typologies.
Robert's Dutch background, Shefali's Indian roots, and your combined experience at Srilankan architect Channa Daswatte's firm, what role have these factors played in your practice today?
Shefali: These varied experiences and exposures have a very strong influence on the way we perceive our world. More and more ideas spread around the world with an increasing speed today. On one hand this phenomenon has and is eradicating certain specificities and uniqueness of the places where we are asked to build. On the other hand we strongly believe that with our cultural backgrounds we can create entire new environments that were previously impossible.
A designer has to be at his creative best when assigned with a children's space to design. How was the experience of designing for the Learning Pavilion in Karjat, especially with challenges like limited budget?
S: The initial requirements and the project brief were fairly straightforward. The Magic Bus Campus needed additional shaded areas to hold orientation programs and workshops with the children that visit the Centre. In addition to this they needed some amenities such as an area to store their canoes and kayaks. This meant that the Learning Pavilion had to be situated close to the river from where the equipment could be launched. The position of the building on the site was the most critical part. We selected the present location, as it was the confluence of the river, the football field, a small hill and a seasonal stream.
Even though this building seems to be a small kit of parts, its assembly and its execution was a challenge. Because of the remote location of the site and its limited budget we had to change the traditional role of the architect. We, in a way had to play the role of contractor ourselves getting it executed bit by bit through specialized agencies. This meant the involvement of our office on this project was full time on a daily basis.
We designed the pavilion as an extension of the challenge course at site. We were hoping that the children would be using it not in a conventional way as just a shelter. Instead we hoped that they would interact with it and saw it more as an oversized jungle gym. So, it was heartening when on the very first day, we noticed the children overcoming their own boundaries. They were working in teams to traverse the ropes bridge. And they enthusiastically climbed the Jacob's ladder and balanced on the log bridge that we integrated into the design.
At one end you've designed a project like 'The house on a Stream', which had a beautiful large site to build on and a comfortable budget to further boost creativity; and then, you have your recent project – a rehabilitation of the Marol slums, that of course has land, budget and program constraints. What's your approach like when met with such diametrically diverse challenges?
R: There is indeed quite an extreme range in the types of sites, scales, programs and clients in our projects. But when you start uncovering the real nature of a project, it turns out that each project has its own set of challenges and problems. When you start pushing the boundaries on these projects the constraints automatically surface as well. I would in fact argue that "The House on a Stream" was determined by very stringent constraints that were inherent in the project. Eventually, it is about the design process, developing options, making numerous models etc, till we have narrowed down on one option.
Exhaustive research is put in every site undertaken by Brio. What's the basic approach to design for any given site?
R: There is an inspirational and associative aspect of a site that becomes our guiding force in the design conceptualization. However there are also quantitative aspects derived through analytical processes that are as important to us. It seems to be the norm here to (even by an architect guided building projects who claim to design "contextually") not look beyond the perimeter of the site boundary. Often we, for example, see university campuses designed with the aim to mimic the qualities of a city, but are in fact designed to be excluded from the city completely.
The construction industry is at its peak in India, however one can't say the same about architecture. It won't be completely off the mark to say that it lacks character. What, according to you needs to be changed, in the way architectural practices are headed today?
R: There seems to be a lot happening at a private scale, however, it is architecture in the public realm that needs dramatic change. There are of course various reasons and excuses why there is a dearth of good architecture. Some examples are bad governance, contradictory regulations, restricted budgets, greed to build more than is allowed, poor patronship. But at the same time on average the bar set by architects so far is fairly low, so it really depends on the architect's own ambition.
A structure designed by another architect which continues to have an impact on you every time you visit…
R: The monastery designed by Dutch Architect Dom van der Laan in the south of the Netherlands. We visited it together when Shefali was an exchange student in Holland in the year 2000. Since then we try to visit it when we can, as it is close to where my family lives in the Netherlands. This little jewel has an overwhelming complete sense of light, proportion, structure, materiality, texture, calmness and understated richness that I only experienced again in Tadao Ando's work.
Competitions are a good platform to tap into new talent. How has participating in competitions helped your practice?
S: Robert won the European competition in the Netherlands back in 2006, which gave gave us the confidence to start our own architecture firm in Mumbai. Later on in our practice we won two competitions in Sikkim, i.e. the Butterfly Reserve and the Biodiversity Training Institute. Often, it is definitely a way to get commissions of a different scale or type. These type of commissions otherwise remain out of reach for niche practices such as ours.
But we always struggle with the fact that the client in a competition is mostly absent. We enjoy the process of engaging with a client to make something unique together. What we think is exciting and appropriate in a competition design often comes as quite a shock to the client at the moment of the presentation. So we often loose competitions as well!
An Indian monument you would love to give a facelift to?
R: Haji Ali in Mumbai. It has the most beautiful setting in the city and from a design perspective has so much more to offer.
With the growing awareness about sustainability, many architects are consciously trying to incorporate certain eco-sensitive values in their design. What according to you should an all-encompassing green project entail?
R: When you start looking at a project holistically then everything should eventually fall into place. For example, when you deduce from a long term strategic planning that your building is only required for 20 years, then you could design a building that can be dismantled after 20 years! Does your building need to be durable, flexible or temporary? We often struggle to engage the parties that are involved in the building process in envisioning these kind of time spans.
A traditional technique or a material that you would like to work with in future?
S: In 2008 we designed a dormitory building with bamboo as a structural system. For various reasons the project unfortunately never took off. But we have currently two projects under construction where we will be employing bamboo in various ways. We think that there is a lot of progress that can be made by using bamboo. Especially in combination with other materials in otherwise conventional building methods we see a lot of possibilities.
What are you currently working on?
S: We are currently making a 1:6 scale doll house for a client. It has been very inspiring to create a three-dimensional experience for a child and her dolls! You don't need to worry about practicalities such as privacy, safety and functionality. But you do need to imagine how you would enable a child to use her imagination and play with her dolls in that space.
The process for us has been the same as designing an actual house – right from conceptual drawings to construction drawings. The only difference is that we have a carpenter making it instead of a civil contractor. Bu we made electrical plans for it. We have got steel light fittings fabricated for the decorative lights. And we've even made screen details for it, pool details, railing details, even soft furnishing and artwork. It's very exciting to see how it's all coming together.
What do you do in your spare time…any other interests?
S: Robert has a green thumb. We have a small apartment but we make our own compost and grow a variety of herbs, arugula, tomatoes, and paprika.
I make it a point to cook one meal a day. Usually dinner. Making homemade everything is fun…whether making fresh pasta, pesto from the basil and arugula from our home terrace garden…it allows you to be imaginative.