Exhibition "Sea Change"
The Etania Green School is part of the new exhibition "Sea Change: Flood Resilient Architecture for the 21st Century". The exhibition explores how architecture has to adapt to the growing climate reality of urban flooding. through a series of projects – proposed and realised – by leading architects around the world in the field of flood resilient architecture. Architecture must adapt to a new climate reality: urban flooding. 21st century architecture must be approached from a position of enabling us to 'live with water'.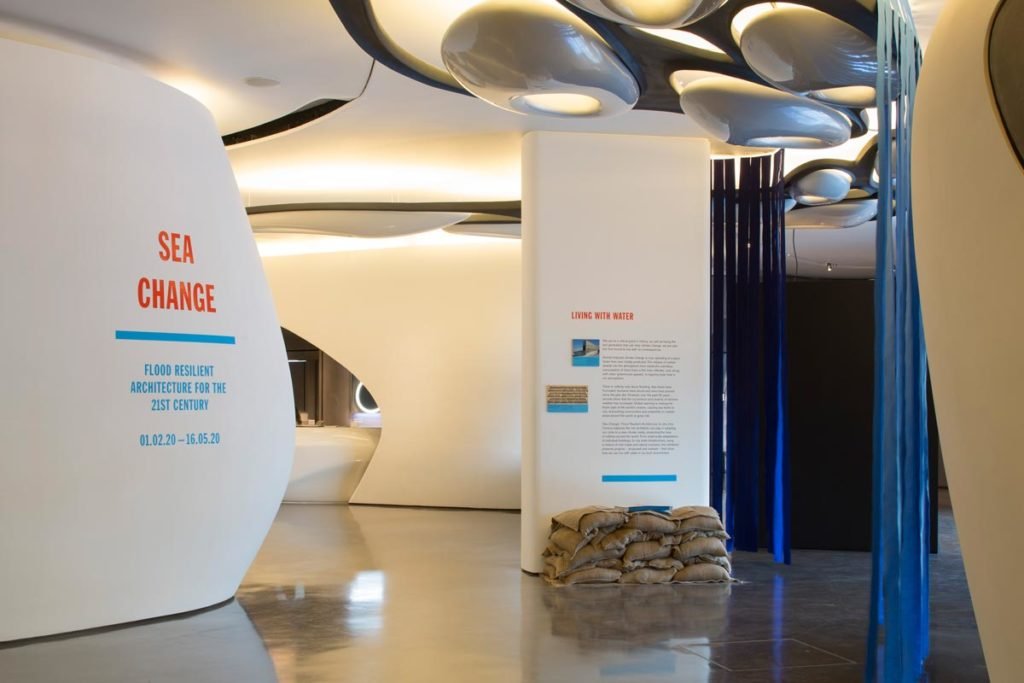 There is nothing new about flooding though. Mankind has been dealing with this natural phenomenon since the ark. What is unprecedented however, is the impact of human-induced climate change. At a faster rate than ever predicted, global warming has an impact on the world of water. Melting the ice caps, rising sea levels and driving up rainfall rates, as well as increasing wind speeds and flash floods. Curated by Eva Woode from Studio Woode, the exhibition displays projects by prominent architects like Marlies Rohmer Architects, BIG – Bjarke Ingels Group, KCAP and Zaha Hadid Architects. Alongside the main narrative, Sea Change includes thought-provoking content on 'flooding as the new normal', through film, futuristic visualisations, books and poetry.
images © Agnese Sanvito
Flood Resilient Architecture in Sabah
The Etania Green School is located along a river in Sabah with a history of massive floods once every 10 years or so. Sabah is host to one of the most vulnerable and sensitive regions in the world, Borneo rainforests. With a deforestation rate of 1.3 m hectares per year, erosion and flooding risks are increasing. The site being next to the river had to respond to this threat.
Beaufort Temporary Atap Shops Flooded 29 September 1949
Therefore the design strategy proposed to raise the school, not unlike much of Borneo's vernacular architecture, from the ground. However the classrooms rise above the ground in an unconventional way. Five decommissioned shipping containers, and a mound created from soil excavated for a water harvesting pond, support the classrooms. This minimises the structural components and stabilises the framework. Additionally, it creates a covered space below the classrooms for a lunch area and gathering space. The containers themselves accommodate store rooms and toilets.
The classrooms are alternately located on either side of a central verandah to orient towards either the river and the agricultural fields. More so this connects the classrooms with the surrounding landscape. The project employs minimal, mostly natural, building materials that are either recycled or assembled to anticipate future alternative uses. The ambition is that the school, in a modest way, sets an example of how to deal with a world with depleting material resources.

"Most architects are now aware of the fact that the construction industry is a huge contributor to CO2emissions. However, we are still learning about how to adapt to this new reality – architects, developers, local authorities and communities will need to work together to make sure existing and new buildings and developments are resilient, as flooding will become the 'new normal'."
Eva Woode, Studio Woode
read more in The Guardian article: Modern ark: designs for the new climate reality – in pictures